Installation of Door Stop
A missing door stop at your doors means that sooner or later the wall will get dented by the door handle. The beautiful laminated wallpapers will get marks and get peeled off, to prevent such damages you need to install a quick and easy object at your doors.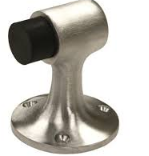 As it's easy to install a doorstop rather than repairing the complete wall. A Doorstop installation Guide is present along with the object.
Tools required for installation:
• 4-in-1 screwdriver
• Cordless drill
• Drill bit set
• Hammer
• Pencil
• Doorstop
A doorstopper can be installed in few simple steps:
Step 1: Close the door.
Step 2: Use the guide and mark the holes with the help of a pencil.
Step 3: Keeping the guide aside, Drill 3/32" size holes with Cordless Drill.
Step 4: Place the Easy-Step Door stop carefully at the marked holes.
Step 5: Install it with the help of a 4-in-1 screwdriver.
Step 6: Clean the Surface and Replace old models with ease.
Tired of repairing walls dented by the doorknobs? Now, invest less than five minutes and a few bucks to install a Doorstop. A Doorstopper is a necessity if you wish to live with dent-proof walls and the biggest advantage is it's available easily at any Online Shopping website.
The biggest advantage of installing the Easy-Step Door Stop is the Package contains a template that helps to mark the holes easily, screw in the 3 holes, and you're done. You can't screw it up!" It's as easy as it seems without any trouble.
You can order this easy doorstop from the website or you can just simply order it on Amazon. It is really cheap and easy to use. After the delivery just follow the above step for installing the door stop and you are good to go.