Knowing if a guy likes you is pretty important, because you don't want to go on you nursing feelings that are not reciprocated. how to know if he likes you is being very observant to notice, and also not draw conclusions unnecessarily. One of the things that show that a he likes you is his eye contact. First he would always be checking you out. He would be constantly looking for opportunities to see how you look again and again. Secondly you would also notice him trying to steal glances at you, to see how you reacted to a particular gesture or stuff he said.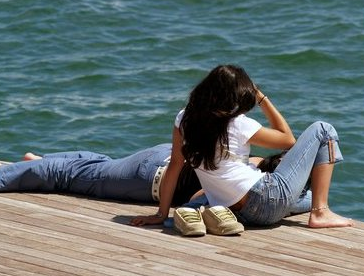 When making jokes in a room, he would be keen to get to see if you thought it was funny. Thirdly, he is also interested in your opinion. Your opinion would go a long way to mean a lot him, when he says something he wants to hear what you think about it. Another way to know if he likes you with eye contact is to quickly look at him for few seconds, and then you take your eye away and look away. If his gaze locks with yours then it is one way of on how to know he likes you.
Another way on how to know he likes you is his body language. His body language would show that he likes you if he looks at you a lot, for instance his gestures and movements towards you. If he tends to try to get into your personal space, you would notice affection when he is trying to lean into you and you would see, he always wants to be facing you the whole time. He definitely likes you when his whole body is pointing towards your direction. Even when his body parts are mostly facing your direction, you would know that he likes you definitely.